First of all, didn't he declare himself a Jets fan when Rex Ryan arrived? Now he comes out and says he is a Cowboys fan?
http://www.nfl.com/news/story/0ap100...as-cowboys-fan
You can pick whatever team you want, governor. Just stop wasting space around John Mara when the Giants win the Super Bowl. I don't want to see you at the parade or on the podium for the trophy presentation.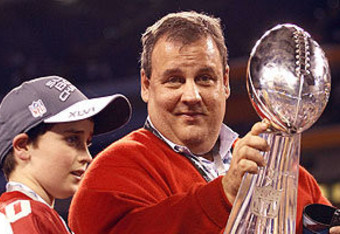 From 2011:
"In tomorrow's game, I just have one thing to say," he told WFAN's Boomer Esiason and Craig Carton. "J-E-T-S! Jets, Jets, Jets!"

"My son Patrick is a Giants fan. The rest of the family roots for the Jets," said Christie. "Patrick is often the lone wolf in the Christie household."

I know, I know, what a shock, a politician who flip flops, right?