[:|]Okay so here's my first four rounds. subject to change after the combine.
Round 1
. BPA
Coby Fleener, TE, Stanford
Height: 6-6. Weight: 248
Round 2
. i can see this guy playing center as well as guard, time to give up on the Baas project we still owe him alot of money lets see how he does at LG if he can't fill then stick this guy in there.
Zeitler, G, Wisconsin
Height: 6-4. Weight: 315.
*
Round 3
. might lose Jacobs, we need a P/K returner, and i'm still not sold on danny ware no matter how much they force him down my throat. it seems like the giants really want to recreate that three headed running attack, this guy can be our 07 bradshaw.
Isaiah Pead, RB, Cincinnati
Height: 5-10. Weight: 193.

OR

*
Round 3
. with our CB depth taking a major hit last year i can see them adding solid relief/depth. this kid can ball he attacks the ball and is constantly spying the QB's eyes while staying with his man. he hits hard and has okay closing speed.
Ryan Steed, CB, Furman
Height: 5-10. Weight: 190.
Round 4
. Love deion grant but he's getting older and slower, not certain the recovery of chad jones and can use good depth/competition at the position.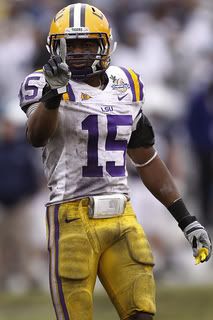 Brandon Taylor, FS/SS, LSU
Height: 5-11. Weight: 202.