*NY Giants trade 19th Overall to Minnesota Vikings for 25th and 54th (2nd) overall*
(19th overall Vikings select Tavon Austin)
New York Giants Draft

1st - 25th overall-
Jesse Williams DT Alabama 6'3 323
- Jesse Williams is nicknamed "Tha Monstar" is an athletic freak for his size. Ran his 40 time in the 4.9 range. He's a huge presence in the interior and eats up a lot of blockers yet still has the athleticism to cause disruption in the passing game.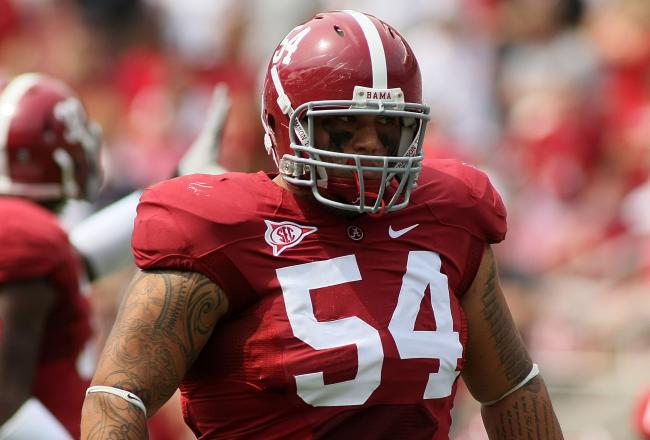 *My reasoning*
athletically he's what the Giants look for and with the team looking to bolster defense oriented in stopping the run, Williams would be a key cog and an anchor at the D-line for years to come. Going forward the Giants (after Jenkins) Joseph and Williams would offer a huge potentially dominate duo in the middle and would make everyone's job (LB's, DE's) a lot easier.
2nd - 51st overall
-
Barrett Jones OG/C Alabama 6'5 311
- (Bama again) Barrett is someone who offers great value. If the Giants organization values Dave Diehl for his versatility then Barrett is a player who'd make a lot of sense for them going forward. Jones is a guy who's versatile and can line up anywhere on the line. Played against the toughest competition in the SEC
*My reasoning*
is this is likely Diehl's last season IMO and Snee is getting up there as well. Kevin Boothe has been solid but he's not elite by any means and it's a contract year for him. No guarantee's the Giants bring him back and Jones IMO is a guy who they can have faith to plug in right away being he's not a project player like they've drafted in the past. He's played against the toughest competition and helped anchor the strength that was the Crimson Tides O-line.
2nd- 54th overall (from Vikings)-
Sio Moore LB UConn 6'1 245
- How's this for athleticism:
40yd: 4.65
Vert: 38"
Broad: 10' 07"
29 reps of 225
Just what the Giants need and have been lacking at the position. Moore is sideline to sideline and is explosive. Great motor and sheds well (from what I've seen). Can rush the passer off the edge and has the athleticism and skills to handle TE's in coverage.
*My reasoning*
- (Arthur Brown's already off the board) Kiwi is better suited going back to DE IMO. Moore is a versatile LB who can play either the Will or outside. I think he's better suited at OLB because of his explosiveness to rush the passer as well and think he'd be a HUGE upgrade over Kiwanuka at that position. The Giants are likely looking at possibly Rivers there this season but moving forward I think it's safe to say Moore's the guy for the job.

3rd- 83rd overall
-
Bacarri Rambo S Georgia 6'0 211
- His draft stock has gone down due to off the field trouble (multiple drug suspensions) but this is the area of the draft when teams look for value. The Giants have shown they're not afraid to take a risk on these type of players. Rambo is a truly instinctive ball hawking safety. 14 picks in his 3 years and is excellent in run support. Versatile and can play in the box as well as SS or FS.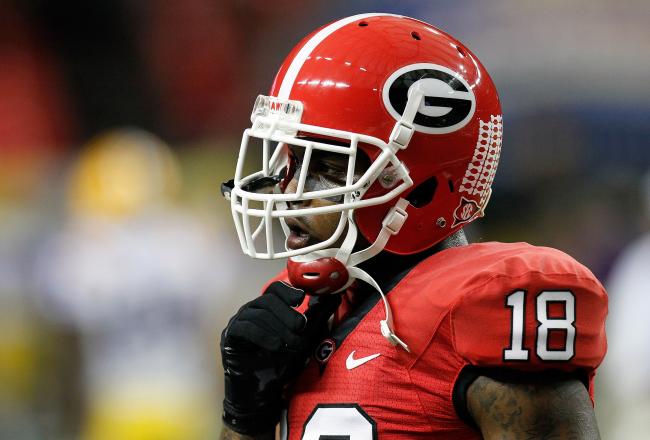 *My reasoning*
- The Giants lost Kenny Phillips and are taking a 1 year insurance flyer out on Ryan Mundy. I expect Rolle and Brown to be the starters this year but I don't see the Giants carrying Rolle's contract next year. Rambo will be the one looked to fill that slot IMO.
4th- 118th overall
-
Blidi Wreh-Wilson CB UConn 6'1 195
- The only reason I see him making it here is because of the slow combine 40 and the questions with his speed. Some have him transitioning to safety (which he has experience playing as well). I see him staying at corner and being successful. He's a long, physical corner with fluidity. Wilson is one of my favorite corner prospects because he reminds me a lot of what the Giants like at the position. He's scrappy, has good instincts against the run and is aggressive in coverage with long arms. He's not a ball hawking type but he's solid in most facets and has the movement skills you look for at CB.
*My reasoning*
- Next year I don't see the Giants carrying Webster's contract (or Antrel Rolle's for that matter). The Giants usually draft in preparation of the following year's roster adjustments. The Giants would like to add another big and physical corner who can be a starter out wide and fits the scheme well. CB depth is also lacking and the Giants need to address the situation.
To be continued.....(this took longer than I anticipated)
What we have so far:
1st- Jesse Williams- DT
2nd- Barrett Jones -OG/C
2nd- Sio Moore- LB
3rd- Baccarri Rambo S
4th- Blidi Wreh-Wilson CB