1st Round: Anthony Barr, OLB/DE UCLA
Anthony Barr is probably one of my favourite players in the draft. He had incredible production, and as the hype get around some players he seems to be staying at our range. He had a "poor" combine, but had a very good pro-day which only re-state what he is capable off. We will play a joker role, I believe that he can be strong influence lined up at the 5 technique outside. He also possesses the speed to cover and to beat OT of the edge. POTENTIAL great potential.
2nd Round: Marcus Martin, C USC
It is time that we get a solid starting centre. I believe that we still need a centre after J.D Walton, and Martin is a great option in the second round. Again not a sexy pick but we fill a great need and open up lines for Jennings and possibly Wilson.
3rd Round: Jared Abbrederis, WR Wisconsin
Yes I had to research his name, but he is one of the most polished route runners in this draft. We got guys that can take the top in Cruz and Randle, but I'm a believer of someone with a solid route running and hands.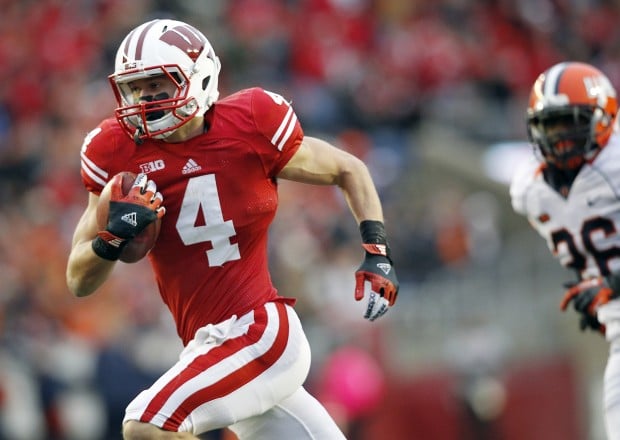 4th Round: Yamin Smallwood, ILB UCONN
In my opinion he can do everything, he will be learning from a great LB in Beason. He can rush the passer, cover and tackle. Needs to be more polished, but it is a better athlete than Skov and Borland.
5th Round: A.C. Leonard TE, Tennessee State
Unbelievable athlete and had pretty fluid routes after I watched him at the combined. His hands seemed strong and somewhat natural, as he caught two very difficult balls in two drills at the combine, but dropped a couple I believe. As a 5th round pick he might be able to get in those late downs longer yardage situations.
5th Round: Storm Johnson, RB UCF
Mr. Can do everything in my opinion he will be a steal in the 5th round. People didn't get much of him since he was a one year starter, but he is big enough to run in between the tackles. Has the speed to bounce outside. Good pass catcher.
6th Round: George Uko, DT USC
A underclassmen who should have stayed in school. Uko is more of a developmental prospect who can do a little bit of everything. Good use of hands, but can be unaware of where blockers are. Good swim move, but only move used.