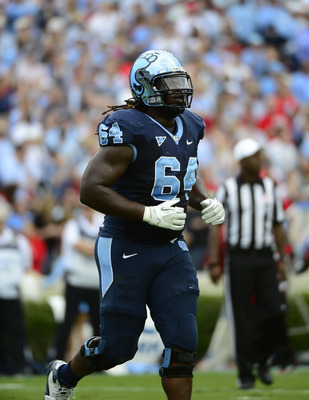 Jonathan Cooper, guard, North Carolina


We could be hearing this...
"
With the 19th pick in the 2013 Draft, the NY Giants select, OG Jonathan Cooper UNC"
The first time we won a Super Bowl with Eli, Our beloved team was led by a powerful offensive line. Since then, the mainstays along the offensive line have slowly started to move on. We could use an explosive blocker like North Carolina's Jonathan Cooper to regain the advantage up front. He's 6'3" 310 lbs. His 2nd position in center, so we ultimately 'could' use him there as well after Bass moves on. His 40 time is 5.02 and 5.17. Our Giants have survived with Kevin Boothe playing left guard, but he's better suited for a role as a swing backup. Cooper has the talent needed to immediately replace Boothe in the lineup. Adding Cooper would help running backs Ahmad Bradshaw and David Wilson increase their production. Having a capable running game is important to Manning's success, as he plays his best when he can use play action. his projection is late R1, so trading Down and gather an extra pick in a later round is an Option, although we all Know Reese and Co, Dont Play the Patriot Game
2012 COACHES ALL-ACC FOOTBALL FIRST TEAM: OG-Jonathan Cooper, North Carolina, 6-3, 295, Sr., Wilmington, N.Y. (21), has been selected First Team All-Atlantic Coast Conference (Coaches selection) for the 2012 college football season. This year, for the first time under the auspices of the ACC, the league's 12 head football coaches voted for an All-ACC football team. A native of Wilmington, N.C., Cooper is considered by many observers as the nation's top guard. He graded out at 90 percent for the season and had double digits in knockdown blocks in nine of the Tar Heels' 12 games. He was a key part of Carolina's offensive success. The Tar Heels set single-season records in scoring, total offense and passing yards. Running behind Cooper and left tackle James Hurst, UNC tailback Giovani Bernard ran for 1,228 yards.

What are some thoughts on this guy from your viewpoint? Is it possible JR and Co. trade down and grab him?