EXCERPTS FROM EXTERNAL NEWS ARTICLES REGARDING THE NEW YORK FOOTBALL GIANTS ARE POSTED UNDER THEIR SOURCES. MISCELLANEOUS SPORTS ARTICLES ARE POSTED UNDER THE "MISCELLANEOUS" SECTION AT THE END OF THE THREAD. LINKS FOR ALL LISTED SOURCES ARE INCLUDED TO ALLOW MEMBERS TO INDEPENDENTLY BROWSE AT THEIR LEISURE.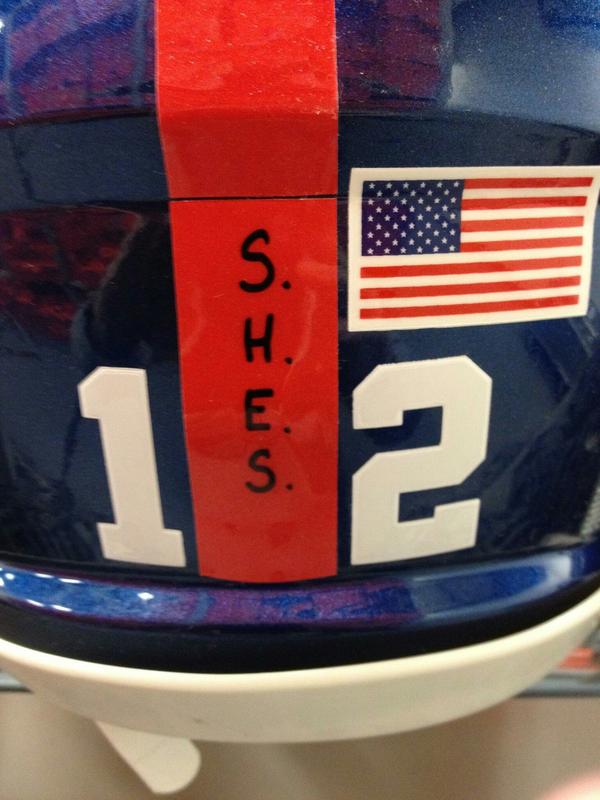 NEWARK STAR LEDGE

R
Giants Take The Cautious Approach When It Comes To The Fine Line Between Injured And Hurt
http://www.nj.com/giants/index.ssf/2...ous_appro.html
Excerpt: "Ahmad Bradshaw lobbied all week long. Even as he missed three straight days of practice. Even as he and his sprained left knee hobbled around the Giants' East Rutherford practice facility, looking even to the casual observer in no shape to play today at Atlanta.
"He's already told me he'll be ready," offensive coordinator Kevin Gilbride said Thursday, with a good-natured shake of his head. "I don't even listen."
This is the weekly dance that takes place in team headquarters across the NFL each week, between competitive players who are desperate to be on the field each Sunday despite injury, and the coaches, medical staff and front office members who serve as their checkpoints.
In Bradshaw's case, not even the running back's well-established grittiness or his vow that he would play could overcome the fact his knee was simply not healthy enough to enter an NFL game today. He was ruled out on Friday, along with fellow Giants starters Kenny Phillips and Prince Amukamara, who have knee and hamstring injuries, respectively.
Elsewhere in the NFC East, the Giants' challengers for the division crown faced similar judgments with their own key offensive weapons: Redskins quarterback Robert Griffin III was determined to get back on the field after spraining the lateral cruciate ligament in his knee last week, while Cowboys receiver Dez Bryant said he's putting off surgery on a broken finger to be part of his team's playoffs chase.
Teams have protocols they follow to make the evaluation process as scientific as possible, even when gray areas like pain tolerance, a player's value and a game's significance exist. There is a fine line between "hurt" and "injured" — yes, there is a difference in locker-room lingo — and this is what teams must discern to determine who plays on Sunday.


RULED OUT
Giants coach Tom Coughlin waited until Friday to rule Bradshaw out, because of the player's proven toughness. The sixth-year veteran has played on broken bones in both feet in past years and a deep bone bruise in his foot for most of this season.
But his knee sprain, like the neck sprain that kept Bradshaw out of a game in September, is something his will couldn't overcome. Despite Bradshaw's insistence to his coaches all week that he could go, Coughlin made clear early in the week the decision would be in the hands of the team's medical staff, and they would "live by it."
This is where players make the distinction between "hurt" and "injured." Being "hurt" means having any range of ailments that come with playing a contact sport for a living — such as the knee contusion that safety Antrel Rolle said kept him at less than 100 percent until last week but never forced him to miss a game.
"Injured" applies to more serious conditions that can sideline a player for weeks or more. Until an injury heals or is at a point when it can't get worse, there isn't wiggle room.
"The player has a voice, but it's coming from the doctors," Coughlin said. And if the doctor says the player can't go, "that's all there is to it." Read more...
Giants Know Playoff Drubbing Will Be On Georgia's Mind
http://www.nydailynews.com/sports/fo...icle-1.1221133

Excerpt: "The beating was thorough, embarrassing, and probably unexpected. The Atlanta Falcons were a dangerous, explosive team when they flew north for the playoffs last winter. The Giants' defense shut them out and smacked them down.
Their only points came on a safety — on an Eli Manning intentional grounding penalty in the end zone. They couldn't run the ball during their 24-2 loss and didn't have a pass play go for longer than 21 yards.
It was as good of a defensive performance as the Giants have had in ages.
MYERS: NOW'S WHEN THEY BECOME GIANTS
And it's a good bet on Sunday that the Falcons will be out for some revenge.
"I think it's definitely going to stick with them," said Giants safety Antrel Rolle. "If the tables were turned I know it would definitely stick with me. Those guys are going to come out and they're going to be hunting for us."
When the hunt begins in the Georgia Dome on Sunday afternoon, the Falcons (11-2) won't just be chasing down the defending Super Bowl champions. They're looking to show they're ready to replace them. The Giants (8-5) believe the Falcons are a much better team than the one that was spanked in the wild-card playoffs at the Meadowlands last January. The Falcons want to prove it, too.
And they're not the only ones with something to prove. The Giants — who will be without starting running back Ahmad Bradshaw and two starting defensive backs (cornerback Prince Amukamara and safety Kenny Phillips) — are still stuck in a fight in the NFC East, holding a one-game lead and knowing that if they lose they could slip all the way to third place in their division. They also want to reassert themselves as real Super Bowl contenders.
What better way to do that than to win on the road against the NFC's top team?
"The Falcons have everything to play for, but so do we," said Giants defensive tackle Chris Canty. "We have everything to play for to get our season to where we want to be. It's all in front of us."
Read more...
Giants To Honor Victims Of Connecticut School Shooting
http://www.nj.com/giants/team/135560...ictims-of.html
"
The Giants will honor the victims of the Sandy Hook Elementary School shooting with the letters "S.H.E.S" marked on the back of their helmets during tomorrow's game against the Falcons. Twenty-six people, including 20 children, were killed in the horrific incident Friday in Newtown, Conn."
SITE LINK
NY DAILY NEWS
Giants' Cruz Pays Tribute To Sandy Hook Victim
http://www.nydailynews.com/blogs/gia...o-a-fallen-fan
"The Giants will be honoring all of the victims of the Sandy Hook shooting during their game on Sunday. But for Victor Cruz, his tribute will be a little more personal.

Cruz, the Giants' star receiver, will be wearing the name "Jack Pinto" on his cleats and gloves on Sunday afternoon, in honor of a six-year-old boy killed during the school shooting on Friday. Jack was a big Giants fan, and a fan of Cruz.

Cruz told ESPN that the Pinto family told him they were considering burying Jack in Cruz's No. 80 Giants jersey.

In the aftermath of the horrific mass murder that left 26 people dead, including 20 children, several friends of the Pinto family reached out to the Giants, according to a team spokesman. When Cruz learned of Jack's story, he immediately called the family to offer his condolences.

On Sunday, Cruz Tweeted pictures of his tribute to Jack that showed the words "Jack Pinto, My Hero" on one of his cleats and "R.I.P. Jack Pinto" on the other. On the back of his gloves, Cruz wrote "Jack Pinto This one is 4 U.!"

"My sincerest condolences to the entire Pinto family," Cruz said via Twitter. "My prayers are with you during this extremely difficult time."
The other victims of the tragedy will be remembered by the Giants too. They will all have the letters S.H.E.S. – for Sandy Hook Elementary School – hand-written with a Sharpie on the back of their helmets. Tom Coughlin will wear the letters on his hat, too.

The Giants also held a moment of silence for the victims at the team meeting on Saturday night.
"Our hearts go out to the families," Coughlin said on ESPN on Sunday morning. "To have this happen, it's almost beyond explanation.

"My only thought there was as a New York Giant family, we should all rise and have a moment of silence recognizing the families of these children, the families of the principal, the people at the school that were killed, just to recognize the fact that our hearts are so saddened by this event. The senseless killing — it's very difficult to get past the senseless killing of children."

Coughlin's players seemed to feel the same way.

"There (are) many reasons why today's game is important," linebacker Mark Herzlich said via Twitter. "But the one that really matters is to show our support for the victims of #SHES Strength.

"#SHES your courage in the face of adversity certainly demonstrates (to) me the ultimate strength we as humans possess. (I) hope to emulate (that) in my play."

A Giants Trip That's Really For Te Birds
http://www.nydailynews.com/blogs/gia...-for-the-birds
Excerpt: "
THE GAME:
The defending Super Bowl champion New York Giants (8-5) at the Atlanta Falcons (11-2), 1 p.m. ET at the Georgia Dome in Atlanta.
THE WEATHER:
Doesn't matter. It's a dome. Although I hear it'll be springlike outside.
WHAT IT MEANS:
At this point it means everything for the Giants, because their situation becomes exponentially perilous if they lose. Just like with last week, they face the potential of slipping all the way to third place in the NFC East with a loss. Of course, if they win there's the possibility they could have a two-game lead in the division with two games to play. It all depends on what the Redskins (7-6) do in Cleveland and what the Cowboys (7-6) do at home against the Steelers. … Meanwhile the Falcons (11-2) have already clinched the NFC North, but they clinch a first-round bye with a win and a loss by either San Francisco or Green Bay, and they clinch the top seed and home field advantage with a win and losses by both of those teams.
MATCHUP TO WATCH:
Falcons WRs Julio Jones and Roddy White vs. Giants CBs Corey Webster and Jayron Hosley..
This is a huge matchup because the tandem of Jones and White have been unstoppable much of the season. Sure, the Falcons can kill teams with tight end Tony Gonzalez, too, but these are the stretch-the-field, big-play weapons. In the Giants' 24-2 win over the Falcons in the wild-car playoffs last season, they never got down field. Actually, that's not true. There were a few times that Jones, in particular, seemed to be open downfield, but QB Matt Ryan simply didn't have the time to find him. He might have that on Sunday because the Giants' pass rush just isn't as dangerous as it was last season. That'll put a lot of pressure on Webster, who has been very up and down this year, and Hosley, a rookie who has played sparingly as the nickel cornerback. Expect Ryan to target Hosley early and often, forcing the safeties to shade his way. That could open things up on the other side, where Webster has been very susceptible to giving up the occasional deep pass this season." Read more...
Myers: Now's When They Become Giants
http://www.nydailynews.com/sports/fo...icle-1.1221101
Excerpt: "Tom Coughlin stood in the middle of his players in the locker room moments after they crushed the Saints by 25 points last week. As his players held hands around him, Coughlin set the agenda for the final three weeks of the season.
"We know we're the only team that can win 11 games in our division," he said.

The Giants are at eight. The Redskins and Cowboys are at seven. That makes it pretty simple: If the Giants can beat the Falcons at the Georgia Dome on Sunday, then win in Baltimore next week and finish up at home, ending the Andy Reid era in Philly with another Eagles loss, then it doesn't matter what Washington and Dallas do the next three weeks.
The Giants will have then defended their NFC East title and could be returning to Atlanta next month to play in the divisional round of the playoffs.

This is money time in the NFL. This is when the Giants usually flip it into another gear.

Now is the time for the Giants to get hot, to recapture the magic that surfaced at the end of last season with crucial victories the last two weeks over the Jets and Cowboys and then carried over into the playoffs, where they beat the Falcons, Packers, 49ers and Patriots. If the Giants are going to win back-to-back championships for the first time in their 88-year history, they must assert themselves and become the toughest out in the league.

"These are fun. This is what it's about," Eli Manning said. "Late in the season, these games are important and they're big and we've got to make sure we continue to play good football and making our strides and getting better each week and have great preparation and get excited for these opportunities."

Even with a victory over the Falcons, who have the NFC's best record at 11-2, it's not realistic for the Giants to finish the season as the No. 1 seed. Atlanta would have to lose its last three while the Giants win their last three and also jump over the 49ers (9-3-1) and the Packers (9-4) to get to the top spot. Finishing up as the No. 2 seed should be the goal: That gets the Giants a first-round bye and then a home playoff game in the divisional round, something they've not had since 2008.

For now, the issue is Atlanta." Read more...

In His First Start, David Wilson Must Focus On Coralling His Need For Speed
http://www.nydailynews.com/sports/fo...icle-1.1221126
Excerpt: "Dwight Wilson can't remember his son's first backflip. But he does remember the most exciting one.
Dwight still recalls a good many years ago when his son David Wilson, all of three years old, clambered into the back of his father's red Ford F-150 pickup. Dwight wasn't watching at the time, he was busy doing other things, but a family friend noticed David climbing in.
A moment later, the friend yelled for Dwight, concerned. But the father hardly worried.

Wilson had done a backflip off the truck.

"My friend, he saw him and he was like 'Why, that boy gonna hurt himself!'" Dwight says. "Then he got his wife and showed his wife."

David Wilson, all of three years old, performed three more backflips off the pickup, and there have been many more over the years. Flips were Wilson's fascination, and he was constantly running and moving, says his mother Shelia, patience and stillness were never his strengths.
"You know, David's always been trying to flip and move real fast, even when he was a little toddler," Shelia says.

The acrobat ran and flipped his way straight to the NFL, and last week against the New Orleans Saints, he ran and backflipped his way into the hearts of Giants fans and onto YouTube highlight reels, erasing a rookie season filled with disappointment with one captivating three-touchdown performance.
The encore comes on Sunday in Atlanta, when Wilson will run (but not flip, he's promised his overprotective team) some more, replacing injured Ahmad Bradshaw (knee sprain), making his first NFL start at running back against the Falcons.

But this one will be no somersault. Hard running and athletic ability got Wilson this far, but on Sunday — and in the future — he will need more than that, something that his coaches and parents and an early season of failures have taught him." Read more...
The Playbook - Giants (8-5) At Falcons (11-2): Big Blue Can't Afford A Loss To A Team OUt For Revenge
http://www.nydailynews.com/sports/fo...icle-1.1221095
Excerpt: "AT GEORGIA DOME

WHEN: 1 p.m.

LINE: Falcons by 1 1/2

TV: Ch. 5 (Kenny Albert, Daryl Johnston, Tony Siragusa)

RADIO: WFAN-660 AM and 101.9 FM (Bob Papa, Carl Banks). Nationwide on Compass Media (Matt Smith, Curtis Conway)

FORECAST: Dome conditions.
INJURY REPORT

The Giants will be without RB Ahmad Bradshaw (knee/foot), CB Prince Amukamara (hamstring), S Kenny Phillips (knee) and S Tyler Sash (hamstring). Rookie Jayron Hosley , who has come on since early-season difficulties, would be next up against an excellent WR corps with Antrell Rolle playing the nickel corner spot.

David Wilson , fresh off his breakout performance last week, will be leaned on heavily again. WR Hakeem Nicks , as usual, will have to contend with a sore knee. Falcons WR Roddy White (knee) will be a gametime decision. CB Asante Samuel is battling a shoulder injury that kept him out of last week's game.

KEY MATCHUP

TE Tony Gonzalez vs. S Antrel Rolle and LB Jacquian Williams

Gonzalez isn't playing like an old man. More than ever he's on a mission to get to a Super Bowl and this is his best chance yet. He's been a red zone handful for every opponent. With Rolle at nickel corner, the speedy Williams will have a big part in defending Gonzalez. Perry Fewell's Big Nickel package has been especially tough on tight ends. But Gonzalez may be the best of all time." Read more...

SITE LINK
THE NEW YORK POST
Big Blue Invade Falcon's Temple Of Dome
http://www.nypost.com/p/sports/giant...F01VeyUpEkXFvM
Excerpt: "In this case, the Giants hope familiarity breeds success.
They are on the road again today for what they are treating as a must-win game oozing with playoff implications, a late-season test of where they are and, more importantly, where they might be going.
"We've come to be very accustomed to this,'' Justin Tuck said. "It's kind of old news for us. But we relish this role. We relish playing meaningful games in December, especially on the road where we've had a lot of success under Coach [Tom] Coughlin's tutelage about being on the road late in the season.''
This time, the Giants get to come out of the cold and step into the climate-controlled Georgia Dome to face the 11-2 Falcons, owners of the best record in the NFC, a team that already has clinched the NFC South and is vying for the No. 1 seed in the conference. That incentive is a sharp contrast to the way the Giants (8-5) are clinging to their one-game lead in the NFC East, with the Redskins and Cowboys (both 7-6) in hot pursuit.
"At the end of the day, we have to win this game, and I think it's more important to us than it is to them at this point,'' Osi Umenyiora said.
"I think we like to show our stuff against the big-time opponents,'' Victor Cruz added. "I don't know why. I don't know what it is, but there's just something about it. I think we always come to play when we play against those big teams — against the Green Bays and the San Franciscos — and this team is no different. Hopefully we can come with that same kind of performance and get another victory under our belts.''
A look inside the game:" Read more...
Serby's Sunday Q & A With...Henry Hynoski
http://www.nypost.com/p/sports/giant...ZA22sMDmcsnWyL
Excerpt: "Giants fullback Henry Hynoski blocked out some time for a Q&A with Post columnist Steve Serby.


Q: Describe your transformation once you put on the uniform.
A: I don't know what does it, but something just clicks. My dad [Henry Sr.] ... he played pro ball [with the Browns], and growing up, people in the area always said how good of a guy my dad was, how he was just a standup person, and I always heard stories of how great he was, and people always tell me how nasty he was on the field, but off the field, he was the nicest you'd meet. So growing up, I idolized my dad, looked up to him, and I always tried to model myself after him. And the one piece of advice that my dad told me when I was a young kid has always stuck with me was, "Be an animal on the field and a gentleman off the field," so it's really the way I try and conduct myself (smile).


Q: How old we're you when he told you that?
A: I started first playing when I was in fifth grade, so I think he probably told me that when I was in junior high or my freshman year getting ready for varsity football 'cause I was moving up to varsity as a freshman, and I was starting to get a lot of attention just because I was my dad's kid and everybody was waiting for me to come up and seeing what I would do, if I would follow in his footsteps, and that's the first thing he told me, he's like, "Just be respectable, but when you get on that field, just turn it on (chuckle)." Read more...
Tynes: I Wouldn't Kick To
Rookie David Wilson
http://www.nypost.com/p/sports/giant...BTT1Cl9FrotCRM
Excerpt: "The player with the most difficult job of all today might be Jerrel Jernigan, who lines up in front of David Wilson on kickoff returns and, if he deems it necessary, has the responsibility of holding Wilson in the end zone.
"If it's too deep, I'm going to play it smart, jump in front of him with a stop sign so he doesn't bring it out,'' Jernigan said.
The hope for Jernigan and the Giants is for Wilson to take the ball out on every kickoff, but that won't happen. Playing inside the Georgia Dome, where the surface is smooth as glass and the wind never blows, Falcons punter Matt Bosher, also a kickoff specialist, is tied for ninth in the NFL with 35 touchbacks.
Wilson is coming off a record-breaking performance with 227 kickoff return yards in the 52-27 victory over the Saints, and he has the leeway to take the ball out from as deep as five yards into the end zone.
Good luck, though, trying to get Wilson to take knee no matter where he catches the ball.
"He's not going to listen to that rule, rightfully so,'' Giants kicker Lawrence Tynes said. "I think he should see what they got with the first couple, and if they're covering really well then you just take a knee. The ball's gonna fly pretty well in there.''
Safety First: Eli Must Take Care Going To Air
http://www.nypost.com/p/sports/giant...6UIWagT86RNDuN
Excerpt: "It did not take Eli Manning long to study the Falcons' defense and spot an area the Giants quarterback does not want to challenge: The ability of the two starting safeties to play the ball in the air.
Thomas DeCoud (five interceptions) and William Moore (four) have combined for more than half of the Falcons' 16 picks this season. Manning was more than a little loose with the ball in last week's 52-27 victory over the Saints, tossing two interceptions on bad throws and finding himself fortunate a few other passes weren't picked off.
"Their two safeties are very much in the mix and around the ball, and [they have] two corners that are aggressive and that will jump things,'' Manning said. "So they do a good job in showing some different looks and creating turnovers on defense. So offensively we've got to make sure we're taking care of the ball ... as the quarterback, knowing we've got to see where everybody is and see where their safeties are, see where those corners are before you make any throws and throw it confidently.''
In addition to the ball-hawking safeties, the Falcons have experience at cornerback with Asante Samuel and Dunta Robinson.
The Giants come in with a depleted secondary, as CB
Prince Amukamara
(hamstring) and S
Kenny Phillips
(knee) are out. Rookie
Jayron Hosley
starts for Amukamara and
Stevie Brown
will make his 10th start of the season. The injuries mean first-year player
Will Hill
will get increased snaps at both safety and corner back.
"I study everything, trying to stay ahead of the game just in case somebody does get hurt,'' Hill said.


Domenik Hixon
seems to have supplanted rookie
Rueben Randle
as the No. 3 receiver and
Jerrel Jernigan
got three snaps on offense last week while Randle only got one. Jernigan hasn't done much in his two seasons, but he did finally show his speed with a 60-yard kickoff return against the Saints.
"It seemed like forever, man,'' Jernigan said. "I've been out here grinding, trying to get in, [and] finally get a chance to make a play, so I feel good just to help my team out and contribute to my teammates.'' Read more...
Pass Rush Plans To Put Heat On Matty Ice
http://www.nypost.com/p/sports/giant...6P4gxOVI1cbTxH
Excerpt: "It really doesn't matter whether Robert Griffin III plays today, whether the overhead scoreboard at the Georgia Dome flashes the taunting news to the visiting sidelines that the Redskins are taking care of business in Cleveland.


And it doesn't really matter whether the Cowboys beat the Steelers later on in the 4:25 p.m. game.
All that matters is whether Big Blue are ready to soar, higher than Falcons, and they believes that they are.


Justin Tuck, 48 hours before a playoff game before the playoffs that champions dare not lose, is asked for a State of the Giants

.
"Ascendant," he said.


In what way?


"Upward," he said.


Why do you say that?
"

'Cause we're winning, and we're gonna continue to win," he said.


How do you know that?


"I believe," he said.


Are you gonna win today?


"I plan on it," he said

.
What do you like about the way this team is ascending?


"We're starting to play together," Tuck said.

"Last game I thought we played together in all three phases ... and just history around here, we play well in December. ... I have a lot of faith in this football team, and I think we're starting to put it together."


Matt Ryan and the Falcons would love to avenge January's 24-2 playoff humiliation at MetLife Stadium, and make a loud statement against a foe they will use as a measuring stick.


"Who hasn't used it against us?" David Baas said. "You think San Francisco thought the same thing? They were mad about the NFC Championship game. You think we care?

"
Apparently not."


"If you look at it that way," Tuck said, "then Green Bay was looking to make a statement against us, and San Francisco was looking to make a statement against us, whoever else we beat last year was looking to make a statement against us. ... The fact of the matter is, we're the Super Bowl champions, and every team we play is looking to make a statement against us." Read more...

SITE LINK
THE BERGEN RECORD
SITE LINK
NEW YORK TIMES

SITE LINK
WALL STREET JOURNAL
SITE LINK
GIANTS.COM
GIANTS 101


Giants' General Manager Jerry Reese, Man Of Many Hats

http://www.giants101.com/2012/12/15/...-of-many-hats/

Excerpt: "
While there's a temporary lull in the bashing of
New York Giants
General Manager
Jerry Reese
and how he does what he does, he is continuing to ensure that this team remains a contender for the long haul.
The
NFL
is in Week 15 and slowly but surely, playoff brackets are taking shape. Many teams don't have the shot that Big Blue has before them as they remain "on the outside, looking in." Reese's vision -along with his approach (since 2007)- is to keep the franchise he manages on the inside track. This includes more than just sitting back and watching his players go out and execute or scouting for replacements of injured/IR'd players.
Every off season, teams are met with decisions on the hows and who's to keep in their uniform. Solid organizations work on this all year long. Planning is crucial, as are player contracts and backups. While most of the world is focused on this week's games and possible playoffs scenarios,
Jerry Reese
is behind the scenes preparing to maintain blue continuity for the future.
Rewind to this past March when the gates were unlocked for free agency and the impending
NFL
Draft. You remember – when many teams made their annual splashes and grabbed the biggest-named players from the available skill positions list? This was also the time when many novices (or so it seemed) spoke out about retaining certain Giants players and how there wasn't a sound backup plan in place.
This organization isn't brand new. They don't approach things all willy-nilly. There's a constant process that goes into what's already established here. Waiting until the worst possible moment to admit there's a problem with your team puts said team in the precarious position of constant under-achieving. Contingency plans and consistency are what Reese is all about 24/7." Read more...
SITE LINK
BIG BLUE VIEW
NFL Week 15 Predictions: Mikey's Crystal Ball
http://www.bigblueview.com/2012/12/1...s-crystal-ball
Excerpt: "
Greetings fellow NFL fans. When it gets toward Christmas, you know and feel that the NFL season is nearing a painful conclusion. The games are usually the best of the season, the playoff scenarios ping-pong all over the place, and the playoff games are even better. But of course, there is the letdown of February and March and beyond. But hey, let's not talk about that inevitability. Let's pick some games, yo!


NY Giants at Atlanta
--Since 2007, the
Falcons
are 32-6 at home, an .842 winning percentage, including 6-0 this season. Holy crap. But hey, we are the Super Bowl champs and annihilated these guys last year.
Giants 26, Falcons 24
." Read more...
SITE LINK

SPORTING NEWS
Week 15 NFL Picks:

http://aol.sportingnews.com/nfl/feed...patriots-49ers

Excerpt: "
Week 15 is the most wonderful time of the year—in the NFL regular season, at least. Among the six must-watch games, there are intense divisional rivalry matchups and potential playoff previews. Two of the marquee games, however, are interconference clashes between championship-rich franchises.
In the Steelers vs. Cowboys and 49ers vs. Patriots matchups, you have franchises that account for 19 of the 46 Super Bowl winners. They are the best games of one great week:
Rematch of the Week

New York Giants at Atlanta Falcons (Sunday, 1 p.m. ET, FOX).
T
he Falcons had a brief 2-0 lead in the teams' playoff matchup last season, but those were the only points they would score in a frustrating road loss. The Falcons are perfect at home in 2012 and are trying to make sure they stay there for this year's NFC playoffs. Matt Ryan hasn't been great in the Georgia Dome this season, but Atlanta's defense plays a lot better there. Eli Manning and the Giants' up-and-down offense also are due for an off game. You can bet the Falcons have heard about everyone disrespecting them and will rise up here to prove their worth.
Falcons 24, Giants 17" Read more...
SITE LINK
GMENHQ
SITE LINK
YARDBARKER
SITE LINK

INSIDE FOOTBALL
SITE LINK
THE RED ZONE
.

SITE LINK
GIANTSFOOTBALLBLOG
SITE LINK

NFL.COM

SITE LINK
SI.COM
SITE LINK
ESPN.COM


Giants Add CB Frederick Off Practice Squad

http://espn.go.com/blog/new-york/gia...practice-squad

Excerpt: "
With
Prince Amukamara
out, the Giants added cornerback Terrence Frederick off their practice squad.


The Giants felt the need to add some depth in the secondary with Amukamara nursing a hamstring injury. To make room for Frederick, the Giants waived offensive lineman
Selvish Capers
." Read more...
Boley Makes Trip To Atlanta
http://espn.go.com/blog/new-york/gia...rip-to-atlanta
Excerpt: "
Giants linebacker
Michael Boley
(back) made the trip to Atlanta, according to the Giants. The linebacker is the one Giant who was classified as questionable for the game, so it seems Boley is on the right path to playing Sunday." Read more...
Week 15 Predictions: Giants vs. Falcons
http://espn.go.com/blog/new-york/gia...nts-vs-falcons
All but one picks Giamts????
SITE LINK


NBCSPORTS
PFT's Week 15 Picks:
http://profootballtalk.nbcsports.com...cks-3/related/
Excerpt: "Three weeks remain, and I've gradually built the lead back to four games.
But MDS has a chance to trim the gap down to one, if he's right and I'm wrong on the three games on which we disagree.
And yes, Raiders fans, after four weeks of picking your team to lose, getting the exact score of two games right, missing a third exacta by one point, and correctly predicting the Raiders' point total in all four games, MDS is picking your team to win this week.
Our picks on all Week 15 games appear below. (Then again, where the hell else would they be?)
For last week, I eked out the win, 11-5 to 10-6. For the year, I'm 134-73-1, a 64.4 percent accuracy rate. MDS is 130-77-1, which keeps him at 62.5 percent.
GIANTS AT FALCONS

MDS's take:
The Falcons are still the favorites to earn home-field advantage throughout the NFC playoffs, but I think the Giants are the better team. It wouldn't surprise me to see the Giants win in Atlanta in December and then do it again in January.


MDS's pick:
Giants 30, Falcons 20.


Florio's take
: The Falcons need a win to prove they can win in the playoffs. The Giants need a win to help ensure they'll get to the playoffs. This one feels like the NFC version of Texans-Patriots.


Florio's pick
: Giants 31, Falcons 21." Read more...
SITE LINK
CBSSPORTS

SITE LINK

FOXSPORTS
SITE LINK
Y
AHOOSPORTS

SITE LINK


PROFOOTBALLWEEKLY

Giants Counting On More From Their Rookies
http://www.profootballweekly.com/201...-their-rookies
Excerpt: "It appears the Giants will need more from their rookie class than they did in last season's championship run when injuries and incubation time prevented most of the first-year players in 2011 from making significant impacts. No such luck this time around — the Giants are asking for more from their rookie class.
First-round RB
David Wilson
has shed the fumbling and pass-protection issues (for a game, anyway) and is coming off a game in which he was the first NFL player to rush for 100 yards and return more than 200 yards worth of kickoffs, also scoring three TDs along the way. He'll figure to be a key element on offense and special teams down the stretch, starting with Sunday at Atlanta if starting RB
Ahmad Bradshaw
can't play. Bradshaw's myriad injuries concern the Giants beyond this week, too.
Second-round WR
Rueben Randle
has been in and out of the mix this season. He played only one play on offense (none on special teams) in the Week 14 blowout of the Saints after playing 42 offensive snaps in Week 13 and 20 (including a TD catch) in Week 12. Randle has been used on punt returns, where he has been a bit shaky at times. Still, you figure they'll have to use him at some point more heavily as a receiver, especially with
Victor Cruz
getting beaten up and
Hakeem Nicks
battling through his own share of ailments." Read more...
SITE LINK
PROFOOTBALLFOCUS
SITE LINK
FOOTBALLOUTSIDERS

SITE LINK
MISCELLANEOUS
Cowboys DT Ratliss Unlikely To R

eturn This Season
http://www.cbssports.com/nfl/story/2...lding-out-hope