Who's No. 1? Giants WRs don'tcare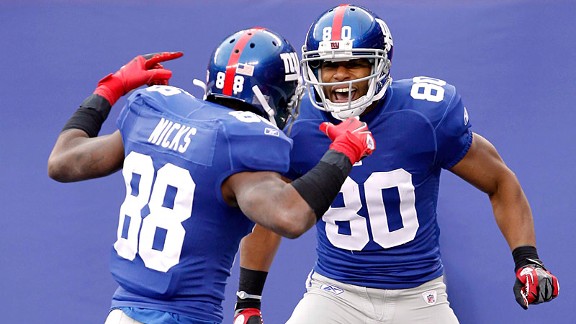 Hakeem Nicks and Victor Cruz are stars, but neither fits the cliched profile of the diva wide receiver.
EAST RUTHERFORD, N.J. -- Stars ignite quickly in New York, and when new stars get hot they burn bright enough to obscure the ones that were there already. So it is with Victor Cruz, the New York Giants wide receiver who's salsa dancing on the morning talk shows and making tabloid headlines with the birth of his first child.

Cruz is so hot right now that people have nearly forgotten about Hakeem Nicks, who was the budding star No. 1 receiver around these parts not four months ago. But Nicks doesn't mind. Part of the reason this all works -- and a large part of the reason the Giants find themselves preparing for a divisional-round playoff game Sunday against the Packers in Green Bay -- is that neither of the Giants' star wide receivers is the kind of guy who acts like, well, a star wide receiver.

"We're great friends," Cruz said Wednesday. "We talk all the time. We text each other all the time. When I'm watching film, I'll text him and ask him about something. And because he has a little girl himself and I just had one, I ask him for advice all the time on that. So he's a guy that I definitely look at as a friend -- a guy who's behind me and supports my career 100 percent."
Yeah, these two guys are a real coach's nightmare. Nicks spends his spare time in the film room, as he has since high school, obsessing over the finer details of his craft, because he never wants to miss an opportunity to get better. Last summer, Cruz took it upon himself to attend every one of Eli Manning's player workouts during the lockout, buddying up to the Giants' quarterback just in case he was going to get an opportunity. Just in case the Giants didn't bring back Steve Smith or sign Plaxico Burress or give Domenik Hixon the preseason reps at slot receiver or any of the other things they planned to do before giving Cruz a shot.

The Giants' star wideouts are workaholics. They're humble. They're generous and engaging and easy to like. In short, they bear absolutely no resemblance to the cliched profile of the diva wide receiver.

"I think the main thing with both of those guys is that they want to be successful, and they want to be successful as a team," Giants safety Deon Grant said. "They don't consider themselves individuals. They know the best way for them to be successful is if we're all successful. And that's a special thing, to have guys that think that way. That's why this is a special group of guys we have in here."

There is a remarkable lack of ego about these Giants. The quarterback doesn't carry himself like a star. The coach doesn't hold himself out as the smartest guy in the league. Even the remarkable self-confidence the Giants have been expressing outwardly over the past few weeks has rung sincere -- a genuine outgrowth of their own improved play on the field. They believe in themselves and each other, and nowhere is that more evident than in the mutual admiration society that is their wide receiver corps.

"We are a dangerous corps," Nicks said. "I feel like we're all No. 1 receivers. With our offense, if you try to take one guy away, it opens it up for the other two guys. You try to take two guys away, it opens it up for the third receiver and the tight end as well."

The third receiver is Mario Manningham, a player of considerable skill in his own right who began this season apparently poised for his own stardom before Cruz raced past him as well. Manningham has struggled with knee injuries through the second half of the season, but he had a big game last Sunday in the victory against the Falcons, and says he doesn't mind if people would rather talk about Nicks and Cruz.

"I hope they forgot about me," Manningham said of the Packers. "I like not being under the microscope."

Microscope, spotlight, whatever. The Giants' receivers are perfectly suited to roll with any or all of it. In a town that pumps up its stars to unsustainable levels of fame and expectation, the men who are turning Manning's short passes into long touchdowns every week remain grounded. They remain humble. They remain good friends and good teammates who believe hard work and dedication are the paths to success. For goodness' sake, they are NFL receivers who don't mind if somebody else catches the ball.

"Our coaches are always preaching the mantra of taking the names off the backs of the jerseys," Giants tackle Kareem McKenzie said. "Those guys, because of their personalities, they're a great example of that."

They're exactly what the Giants need. And that's a huge part of the reason the Giants are still playing.

http://espn.go.com/blog/nfceast/post...-wrs-dont-care